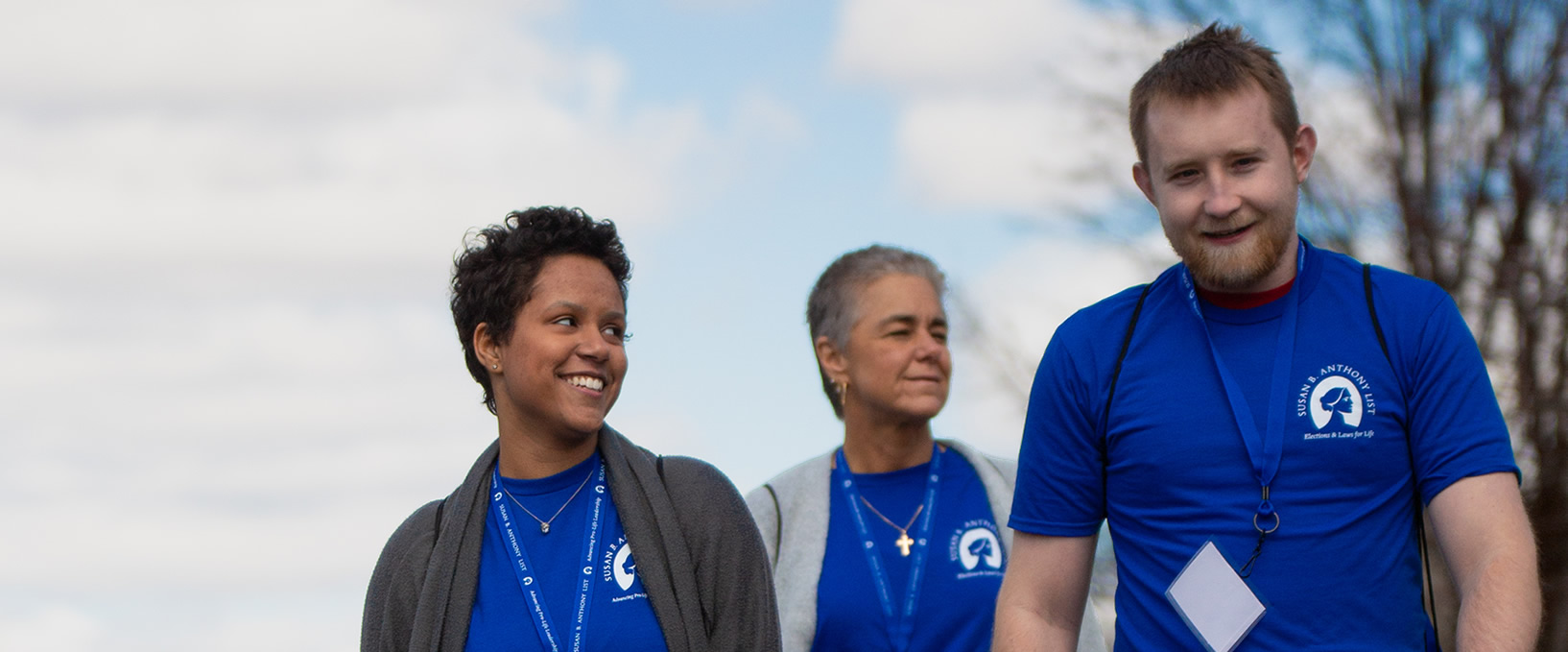 About Us
The Susan B. Anthony List (SBA List) is the largest pro-life political organization in the country with a nationwide network of more than 900,000 Americans. We combine politics with policy, investing heavily in voter education to ensure that pro-life Americans know where their lawmakers stand on protecting the unborn, and in issue advocacy, advancing pro-life laws through direct lobbying and grassroots campaigns.
Her Pregnancy and Life Assistance Network for her (Her PLAN) is a project of the Susan B. Anthony List (SBA List). Her PLAN is designed to identify and support organizations that assist pregnant or parenting women who may consider abortion due to lack of support or resources. Her PLAN currently supports the pro-life safety net across seven categories of care in two pilot states, but intends to expand to 30 states.
The Her PLAN categories of care are:
Mentorship
Health and well-being
Financial assistance, work or education
Material or legal support
Recovery and mental health
Prenatal diagnosis
Care for children
The Position:
The Research Director is responsible for conducting in depth analysis of the services most critical to pregnant and parenting women and families at risk for abortion. This includes regional analysis of the demand for such services as well as the sufficiency of existing programs to meet demand in that region. The Research Director makes recommendations regarding what new or expanded programs are most needed in a region. This research and associated recommendations will be compiled in written reports and presented to relevant community stakeholders.
This is a full-time position located in Arlington, VA. The Research Director will report to the Policy Director.
Who We Are Looking For:
The ideal candidate will:
have a passion for growing the pro-life safety net for pregnant and parenting women and families and is grounded in the mission and values of Her PLAN and the Susan B. Anthony List;
possess a high degree of initiative and attention to detail;
be an excellent written and verbal communicator with ability to present to varying audiences; and
have strong experience creating research plans with realistic timelines and demonstrated experience meeting deadlines.
Essential Functions:
Conduct in depth analysis of the services most critical to pregnant and parenting women and families at risk for abortion in specified regions. This will include services across each of the seven Her PLAN categories of care.
Conduct regional analysis of the demand for services that meet the needs of pregnant women at risk for abortion, as well as the sufficiency of existing programs to meet demand in that region.
Identify the relevant regional public and private funding sources for services that meet the needs of pregnant women at risk for abortion.
Develop and advocate evidence-based recommendations regarding the services most needed in a region.
Review of academic literature and publicly available data.
Perform both qualitative and quantitative research.
Edit and submit protocols and other required research documentation.
Verify the accuracy and validity of information gathered and provide regular updates when necessary.
Produce tables, graphs, maps and written reports summarizing research results.
Present reports to relevant community stakeholders in various forums.
Competencies:
Masters or PhD in Social Work.
Excellent research skills and research experience.
At least 2-4 years of experience in similar research.
At least 1-3 years of experience providing social services to pregnant or parenting women.
Strong organizational skills and attention to detail.
Ability to meet deadlines.
Strong writing skills.
Ability to clearly communicate findings in a presentation setting.
Sacrificial – candidate should be sacrificial in order to achieve the goals of the organization.
Scrappy – candidate must be able to be resourceful and resilient with limited resources.
Ambitious – candidate must be motivated and hungry to tackle tasks each day and push themselves to go above and beyond in everything they do.
Integrity – candidate must always possess honesty and strong ethical and moral principles.
Accountable – candidate takes responsibility for their own actions, behaviors performance, and decisions.
Transparent – candidate openly and honestly communicates with team members. They do what they say they will do.
Team Player – candidate possesses humility, hunger to work hard, and smarts to recognize how their actions and words impact their teammates.
Must be pro-life.
Supervisory Responsibility
This position does not have any supervisory responsibilities.
Work Environment
This position is headquartered in our Arlington, VA office. This job operates in a professional office environment. This role routinely uses standard office equipment such as computers, phones, photocopiers, filing cabinets and fax machines.
Position Type/Expected Hours 
This position is a full-time position. Hours are typically 8:30 AM – 5:30 PM, Monday-Friday.
Some weekend and evening work may be required.
Travel
This position requires travel to present research findings to relevant communities.
Benefits:
SBA List offers a comprehensive benefit portfolio including health, dental, and vision insurance, 401K plan with employer match, life insurance policy, short-term and long-term disability coverage, free onsite parking, paid holidays, and paid time off.
Corporate Culture:
SBA List has experienced tremendous growth over the last 10 years, and we are on track for even more growth in the coming years as we expand our programs and impact. The person who fills this position should model our core values of being sacrificial, ambitious, and scrappy. Our employees are experts in their fields, hard workers, and are incredibly dedicated to ending abortion. They are team oriented with a sacrificial mindset to help one another in our shared mission. We leverage every available opportunity to make advances for the unborn and their mothers.
Other Duties
Please note this job description is not designed to cover or contain a comprehensive listing of activities, duties or responsibilities that are required of the employee for this job. Duties, responsibilities, and activities may change at any time with or without notice.
AAP/EEO Statement
Susan B. Anthony List is committed to providing equal employment opportunity in all our employment programs and decisions. Discrimination in employment on the basis of any protected class under federal, state, or local law is a violation of our policy and is against the law. Equal employment opportunity is provided to all employees and applicants for employment without regard to race, color, religion, sex, national origin, age, disability, covered veterans status, marital status, personal appearance, sexual orientation, family responsibilities, matriculation, political affiliation, or any other protected characteristic.
How to Apply:
Please submit a cover letter, resume, and pro-life statement to our HR Director, Kathleen Wilber at kwilber@sbalist.org. Incomplete applications will not be considered.