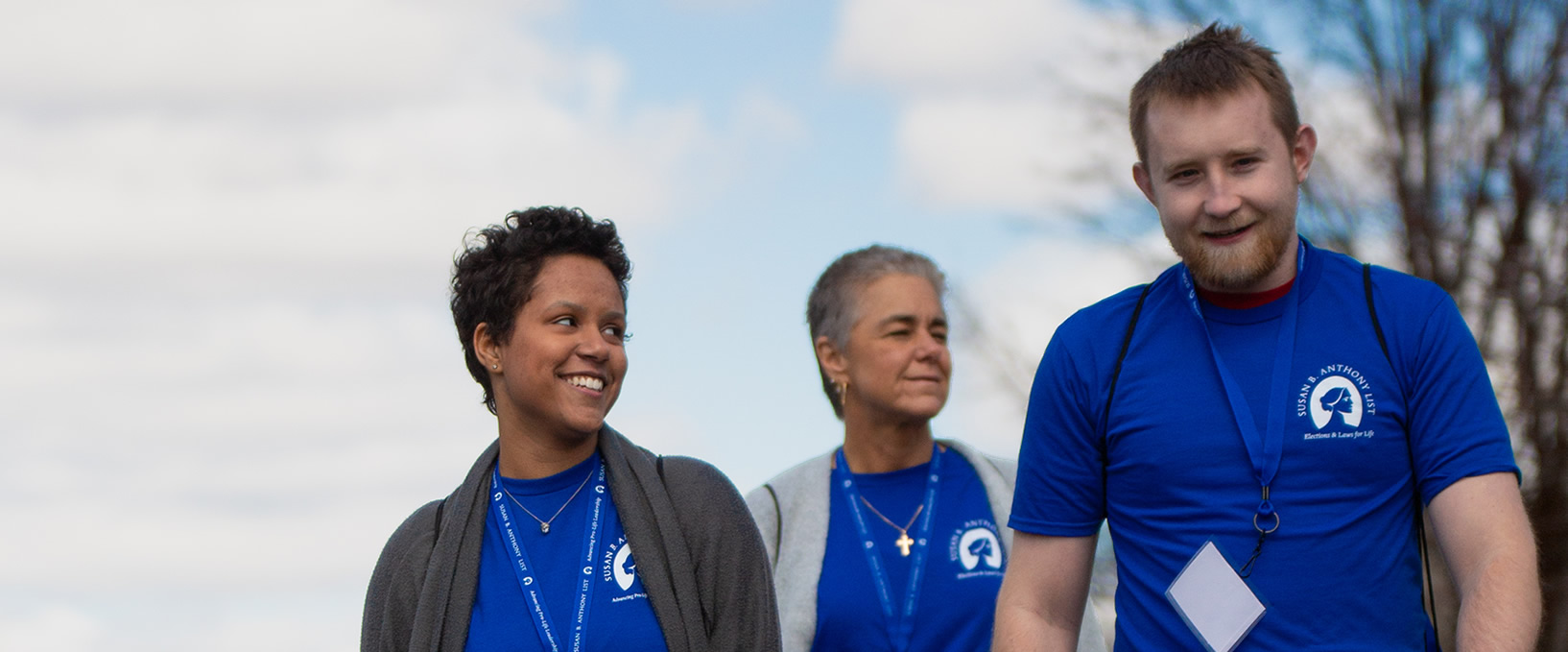 About Us:
The Susan B. Anthony List (SBA List) is the largest pro-life political organization in the country with a nationwide network of more than 900,000 Americans. We combine politics with policy, investing heavily in voter education to ensure that pro-life Americans know where their lawmakers stand on protecting the unborn, and in issue advocacy, advancing pro-life laws through direct lobbying and grassroots campaigns.
Her Pregnancy and Life Assistance Network (Her PLAN) is a project of the Susan B. Anthony List Education Fund designed to identify and support organizations that assist pregnant or parenting women who may consider abortion due to lack of support or resources. The project works with assistance providers across seven categories of care to strengthen the safety net of support for women and families. The categories of care are:
Mentorship
Health and well-being
Financial assistance, work or education
Material or legal support
Recovery and mental health
Prenatal diagnosis
Care for children
The Position:
The West Virginia Coordinator is responsible for executing Her PLAN activities to support and grow the pro-life safety net for women and families in West Virginia. This is accomplished by building meaningful connections, actions, and referrals between assistance providers, and facilitating community organizations (including churches) to support assistance providers in their community.
This a full-time position located in West Virginia and supervised by the Her PLAN Program Manager with collaboration with the Community Outreach Manager. The West Virginia Coordinator will work remotely with frequent travel within the state and occasional travel to the Her PLAN headquarters in Shirlington, VA. 
Who We Are Looking For:
The ideal West Virginia Coordinator will:
have excellent relationship building and networking skills,
possess a high degree of initiative and attention to detail,
be an excellent written and verbal communicator with the ability to present to varying audiences,
have existing connections with pro-life organizations and assistance providers in West Virginia, and
demonstrate a passion for serving women at risk for abortion.
Essential Functions:
Develop and maintain relationships with assistance providers in Her PLAN's seven categories of care.
Develop and maintain relationships with community organizations, including churches, with an interest in expanding support for abortion-vulnerable women before and after delivery.
Host small and medium-sized events for assistance providers and/or community organizations. These events are intended to facilitate collaboration and support for the pro-life safety net.
Introduce community organizations to the Her PLAN Pathways Guide and connect them with opportunities to serve through assistance providers.
Introduce assistance providers to the Her PLAN directory and encourage referrals through the directory. Provide training on how to use the directory to interested assistance providers.
Maintain communications with assistance providers and community organizations through social media and a monthly newsletter.
Stay up-to-date on news and events relative to Her PLAN assistance providers and community organizations.
Serve as a liaison between the Her PLAN Research Director and West Virginia community organizations and assistance providers.
Must-Haves:
Bachelor's degree.
2-5 years of experience with an organization serving pregnant women in one of our categories of care or 2-5 years of experience in relevant state policy or public health.
High degree of motivation and initiative.
Must be able to communicate well over the phone and in person.
Possess high level of professionalism and confidentiality.
Strong organizational skills and attention to detail.
Ability to meet deadlines and manage the calendar.
Sacrificial – candidate should be sacrificial in order to achieve the goals of the organization.
Scrappy – candidate must be able to be resourceful and resilient with limited resources.
Ambitious – candidate must be motivated and hungry to tackle tasks each day and push themselves to go above and beyond in everything they do.
Integrity – candidate must always possess honesty and strong ethical and moral principles.
Accountable – candidate takes responsibility for their own actions, behaviors performance, and decisions.
Transparent – candidate openly and honestly communicates with team members. They do what they say they will do.
Team Player – candidate possesses humility, hunger to work hard, and smarts to recognize how their actions and words impact their teammates.
Must be pro-life.
Supervisory Responsibility:
This position does not have any supervisory responsibilities.
Physical Demands:
The position requires the ability to drive a motor vehicle, lift and carry items weighing up to 25 pounds for certain events and meetings, eye hand coordination, manipulation of hands for computer use.
Position Type/Expected Hours:
This position is a full-time position. Hours are typically 8:30 AM – 5:30 PM, Monday-Friday. Some weekend and evening work may be required.
Travel:
Travel within West Virginia and some travel to the Virginia headquarters will be required for this position. It is anticipated the role will travel up to 50% of the time. Candidates must have a car and will be reimbursed for mileage. 
Additional Eligibility Qualifications:
Bilingual candidates would be a benefit.
Benefits:
SBA List offers a comprehensive benefit portfolio including health, dental, and vision insurance, 401K plan with employer match, life insurance policy, short-term and long-term disability coverage, paid holidays, and paid time off.
Corporate Culture:
SBA List has experienced tremendous growth over the last 10 years, and we are on track for even more growth in the coming years as we expand our programs and impact. The person who fills this position should model our core values of being sacrificial, ambitious, and scrappy. Our employees are experts in their fields, hard workers, and are incredibly dedicated to ending abortion. They are team oriented with a sacrificial mindset to help one another in our shared mission. We leverage every available opportunity to make advances for the unborn and their mothers.
AAP/EEO Statement:
Susan B. Anthony List is committed to providing equal employment opportunity in all our employment programs and decisions. Discrimination in employment on the basis of any protected class under federal, state, or local law is a violation of our policy and is against the law. Equal employment opportunity is provided to all employees and applicants for employment without regard to race, color, religion, sex, national origin, age, disability, covered veterans status, marital status, personal appearance, sexual orientation, family responsibilities, matriculation, political affiliation, or any other protected characteristic.
How to Apply:
Please submit a cover letter, resume, and pro-life statement to our HR Director, Kathleen Wilber at kwilber@sbalist.org. Incomplete applications will not be considered.