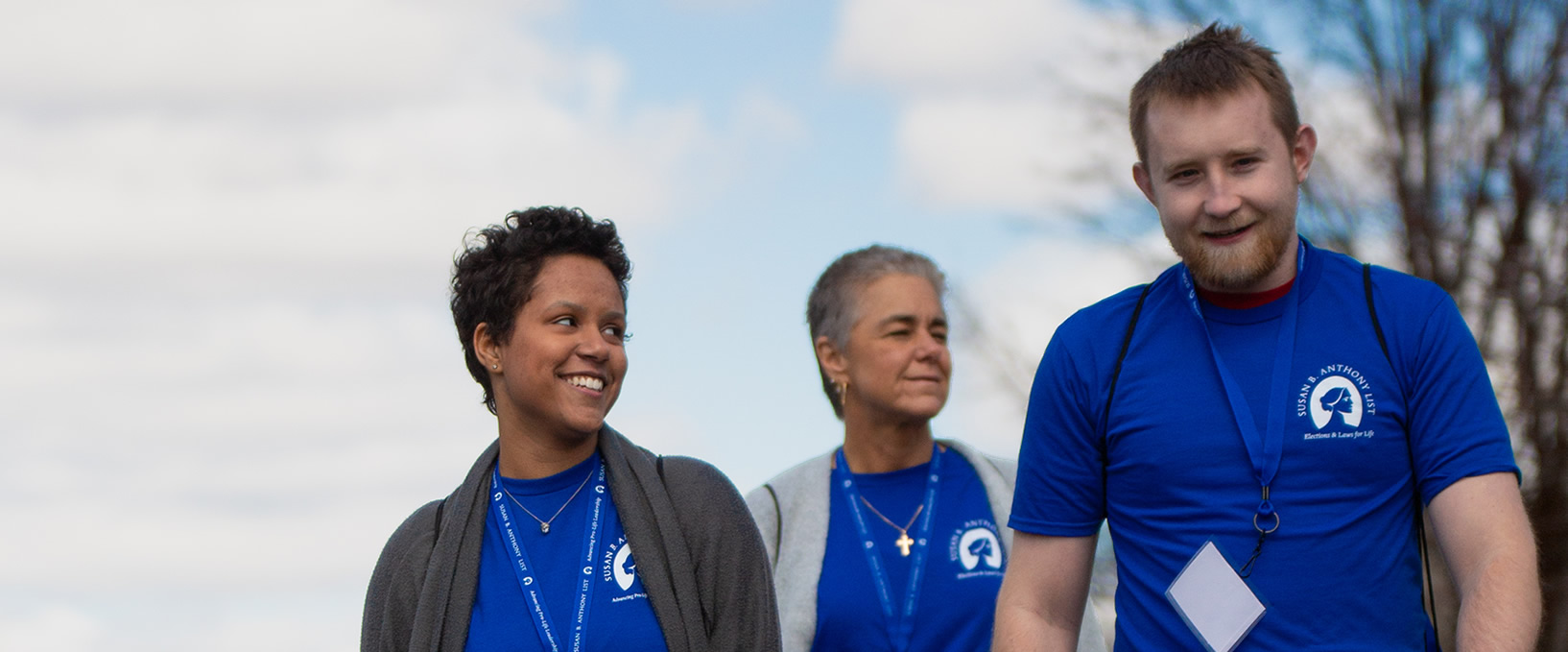 Susan B. Anthony List is seeking a passionate, experienced fundraising professional to join our team. We are looking for an extremely engaging, high-energy visionary who is passionate about using their expertise in relationship building and fundraising to advance our mission to protect unborn human life!  If you enjoy traveling around the country meeting with pro-life supporters and helping them to see why supporting our mission is so critical at this time in our country we would like to hear from you!
About Us:
Susan B. Anthony List (SBA List) is a nationwide network of more than 900,000 Americans. We combine politics with policy, investing heavily in voter education to ensure that pro-life Americans know where their lawmakers stand on protecting the unborn, and in issue advocacy, advancing pro-life laws through direct lobbying and grassroots campaigns.  SBA List's mission is to end abortion by electing national leaders and advocating for laws that save lives, with a special calling to promote pro-life women leaders.
The Position:
The Advisor to the President will report to the Director of Donor Relations and serve as a valuable member of the development team with direct responsibility for development fundraising and donor relations.  The Advisor to the President will identify, engage, cultivate, solicit, and steward current and prospective donors and ultimately expand their financial support of the work of Susan B. Anthony List and Charlotte Lozier Institute. He/she will be responsible for meeting an annual revenue target by working with an assigned portfolio of donors and prospects.  This position will report to the Director of Donor Relations.
Who We Are Looking For:
We are looking for engaging and high energy individual with a passion for the pro-life movement.  Visionary, results-oriented, and relationship-driven, the Advisor to the President will be a key driver to propel the fundraising capacity of SBA List's development efforts.
Your Contribution to the Team Includes:
Manage a portfolio of 150 prospects/major gift donors.
Serve as primary staff for individual prospects of $25,000 or more, developing and implementing cultivation and solicitation strategies.
Conduct personal visits with major donors and prospects, scheduling a minimum of 8-10 significant visits monthly for the purpose of field research, cultivation, solicitation, and stewardship.
Identify major gift prospects and develop compelling engagement strategies to solicit and close gifts.
Identify, develop and cultivate a significant prospects pipeline as part of the organization's evolving fundraising strategy.
Prepare written proposals, gift agreements, funder pitches, and other materials needed to define, secure and document major gifts.
Must-haves:
Must be pro-life.
Five to seven years of experience in development, advancement, or fundraising, with demonstrated success in non-profit or education related organizations.
Advanced Microsoft Word, Excel, and PowerPoint skills required.
Exceptional interpersonal, written, and oral communication skills.
Strong organizational and time management skills.
Must be a team player.
Must possess a can-do attitude and a willingness to go the extra mile.
Possess high level of professionalism and confidentiality.
Must possess a valid driver's license.
Would-likes:
Strong familiarity with Raiser's Edge NXT or customer relationship management (CRM) systems and procedures a plus.
What We Offer:
Susan B. Anthony List offers a comprehensive benefit portfolio including health, dental, and vision insurance, 401K plan with employer match, life insurance policy, short-term and long-term disability coverage, free onsite parking, paid holidays, and paid time off.
Who We Are:
Our employees are experts in their fields, hard workers, and are incredibly dedicated to ending abortion. We are team oriented with a sacrificial mindset to help one another in our shared mission. We are ambitious in our pursuits to protect the unborn, their mothers, and families. We leverage every available opportunity to make advances for the unborn and their mothers.
AAP/EEO Statement
Susan B. Anthony List is committed to providing equal employment opportunity in all our employment programs and decisions. Discrimination in employment on the basis of any protected class under federal, state, or local law is a violation of our policy and is against the law. Equal employment opportunity is provided to all employees and applicants for employment without regard to race, color, religion, sex, national origin, age, disability, covered veterans status, marital status, personal appearance, sexual orientation, family responsibilities, matriculation, political affiliation, or any other protected characteristic.
To apply, please submit a cover letter, resume, and a pro-life statement to our Human Resources Director Kathleen Wilber at careers@sbalist.org.